Mars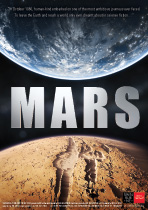 In October 1960, human-kind embarked on one of the most ambitious journeys ever faced. To leave the Earth and reach a world only ever dreamt about in science fiction… Mars.

Experience another world through the eyes of robotic explorers. Through incredibly detailed terrain models and high-resolution stereo photographs from key NASA missions, we join the search for signs of life on the Red Planet in stunning High Definition 3D.

'Mars' is the closest thing to going there yourself.

Screenshots

| | |
| --- | --- |
| Title | Mars |
| Format | 3D 1920×1080 |
| Duration | 10 minutes 17 seconds |
| Producer | Russell Scott |
| Written and Directed by | Samuel Moorfield |
| Script Consultant by | Dr. Chris Fluke |
| Narration | Ric Stone |
| Animation | Samuel Moorfield |
| Sound Production | Sarah Burrell Davis, Red Hat Films |
| Language(s) | English |
| Copyright | © Swinburne Centre for Astrophysics and Supercomputing, 2012 |