Visualisation Services
Swinburne Astronomy Productions is experienced at creating high end scientific visualisations. Using the supercomputer at the Centre for Astrophysics and Supercomputing, we are able to produce breathtaking visuals. From moon landings to large volume datasets Swinburne Astronomy Productions can produce High Definition (1080p) animations in Stereo 3D or 2D to suit any topic.

If you have content you want animated or if you would like to license our content, please contact us to organise a quote.


CAASTRO: The ARC Centre of Excellence for ALL-SKY Astrophysics

CAASTRO will be the international leader in wide-field astronomy, positioning Australia to address fundamental unsolved questions about the Universe with the dramatic capabilities of next-generation telescopes and advanced instrumentation.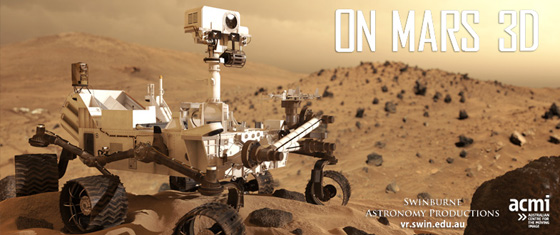 Star Voyager: Exploring Space on Screen

On Mars 3D brings breathtaking Martian data to life for the upcoming ACMI Exhibition.


Australia and New Zealand SKA Project (anzSKA)

Australia and New Zealand have been shortlisted by the international science community as one of two potential locations for the SKA. In support of our bid, the Australian and New Zealand SKA Project (anzSKA) is maximising participation in the SKA, establishing a candidate core site in Western Australia and building the Australian SKA Pathfinder (ASKAP).


Dora the Explorer: Explorers Wanted.

Swinburne Astronomy Productions team up with Nickelodeon to send Dora the Explorer to the moon.


The Square Kilometre Array (SKA) Science

The SKA will give astronomers insight into the formation and evolution of the first stars and galaxies after the Big Bang, the role of cosmic magnetism, the nature of gravity, and possibly life beyond Earth. If history is any guide, the SKA will make many more discoveries than we can imagine today.


Square Kilometre Array visualization produced by Swinburne Astronomy Productions.

The Square Kilometre Array will enable astronomers to see the formation of the early Universe, including the emergence of the first stars, galaxies and other structures. This will shed light on the birth, and eventual death, of the cosmos. The SKA will also revolutionize other areas of astronomy and make unique contributions to basic physics, including the observation of extreme relativistic effects.



A small showcase of the Swinburne Astronomy Productions 3D stereographic films.


To celebrate the 40th anniversary of the first moon landing, a team of animators from Swinburne University have created a re-enactment of the event.

The one-minute video depicts Neil Armstrong's first step on the moon. The video was made by simulating the moon's environment and an astronaut with computer graphics.

For Professor Matthew Bailes, the achievement exceeded his expectations. "If the Moon landing had occurred in 2009, not 1969, this superb high definition video would be what people would be seeing in their lounge rooms instead of the blurry image I remember seeing as a child," he said.